Kulp's Completes Reroof on Christ Lutheran Church
Posted On: 1/5/09
Posted By: Kulp's of Stratford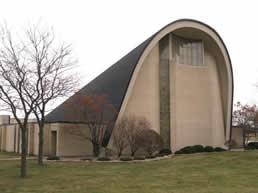 Kulp's Completes Reroof on Unique Church in Marshfield
In October 2008, Kulp's of Stratford took on an unusual project at Christ Lutheran Church in Marshfield. What made it unusual was not the product we installed, but the configuration of the roof. As the photo shows, the auditorium is enclosed by what is termed a barreled roof, sloping up to a height of more than 40 feet on one end.
The CertainTeed Hallmark asphalt shingles were nearing the end of their useful life, and the church made the informed decision to have a metal roof installed this time, seeking to push back the date of the next reroof many decades into the future. After going through a process of reviewing proposals and evaluating several roofing contractors, Kulp's was selected for the project, based largely on its experience with performing metal roofing projects of that size and scope. Decra Stone-coated Steel Shingles, in the Midnight Black color, was the roofing material of choice, with a black EPDM (rubber) membrane covering the "crown" of the roof.
Our crew started tearing off the old shingles on October 23, installed the metal roofing panels first on the north side, then on the south side, and then completed the membrane at the crown of the roof right on schedule and without any leaks on November 4. Kulp's of Stratford would like to express appreciation to the congregation of Christ Lutheran Church for allowing us to be a part of this unique project.