Rhinelander Dept of Public Works Receives a New Energy Efficient Building Envelope
Posted On: 10/8/08
Posted By: Kulp's of Stratford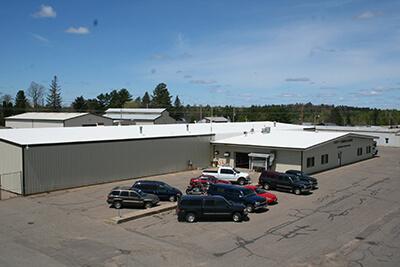 The Rhinelander Department of Public Works Garage receives a complete new energy-efficient building envelope.
In 2007, the Department of Public Works in Rhinelander, Wisconsin, was looking for a way to refurbish its large shop and office on the east side of town. The steel building was beginning to look just a little shabby, and at the same time cost a lot of money to heat during the cold northern winters. The DPW looked to Kulp's of Stratford for assistance in deciding on a fix for this building, which could end up saving many thousands of dollars in energy savings and maintenance costs, while allowing them to make use of the same well-situated structure for years to come.
Kulp's of Stratford founder and owner Bob Kulp drew upon his experience in the roofing, spray foam, and metal construction industries to design and specify a complete package for the DPW building. The roof was to be covered with two inches of InsulFoam Expanded Polystyrene insulation and a high-quality thermoplastic roofing membrane, which would be mechanically fastened to the existing steel roof. TPO (thermoplastic polyolefin) membranes were excluded due to historical quality issues and changing formulations. The walls were specified to receive 1.5" of Gaco Western 1.7 lb urethane foam insulation over their entire exterior surface. Over the spray foam layer would be a McElroy MultiV 26 gauge Kynar-coated steel panel, for a fresh new look all the way around.
The project went out for bids in August of 2007, and Kulp's was the successful bidder at the public bid opening on August 30. The hat sections (for mounting the new panels) were installed to the existing wall first. Work on the spray foam phase of the project took place in November, just prior to the effective end of the season for exterior spray foam work. The wall panels were installed next, with care taken to trim the doors and windows out properly to accommodate the added wall thickness. After some delay due to the heavy snows of Winter 2008, our crew installed the Sikaplan roof, manufactured by Sika Sarnafil, a leading international roofing materials manufacturer. Kulp's of Stratford is honored to have had the opportunity to provide an entirely new exterior shell for the Rhinelander DPW building and seeks opportunities to assist other metal building owners in this way.